Overnight Flowers vs. Florist Delivery
Two Great Ways to Send Your Best with Flowers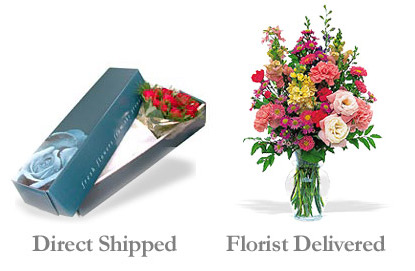 Today, there are two great ways to send flowers. Both have several important advantages and a few disadvantages, too. Which one's right for you may depend largely on the occasion, timing, and delivery destination. Here's why.
Flowers Shipped Direct
With technological advances in order processing, packaging, and overnight shipping, the popularity of direct-shipped flowers has blossomed in recent years. It's no surprise! Beautiful fresh blooms shipped from select growers and importers are delivered next-day by courier throughout the continental USA and Canada, offering improved quality, freshness, delivery tracking, and savings. The bargains are impressive, and the flowers often last longer than those from traditional channels, because they reach the recipient faster from the grower. No wonder discriminating flower lovers are flocking to a handful of leading direct-ship flower sites. They understand the value of sending fresher flowers, picked and shipped at their peak, and express delivered nationwide.
Florist Delivered Flowers
Yet, despite the growing popularity of flowers shipped direct, the majority of fresh flower gifts sent in the U.S. and Canada are still locally designed and delivered by professional florists. Why? While florist delivered bouquets may be priced somewhat higher, savvy shoppers recognize other important advantages. Florists specialize in arranging beautiful flowers in attractive designs for a more "finished" gift that's ready to be displayed on arrival. They offer same-day and next-day delivery, and they can more readily schedule local redelivery if a recipient is away from home or out of the office. In addition, florists typically offer a broader selection of bouquets, plants, and gift baskets, with more personal service and local delivery, so their flower creations go right from the flower shop to the recipient's door.
How To Choose
For same-day and next-day delivery of a complete arrangement, florist delivery is your best option. So, it's no surprise that experienced flower senders turn to florists for most floral gifts to the workplace, hospitals, and funeral homes. Florist delivery is available Monday through Saturday and is best for most international deliveries, too. On the other hand, if you simply want the freshest flowers, the best value, and don't need it there today, send flowers direct by overnight air. Direct ship deliveries are typically scheduled for Tuesday through Saturday, and the recipient will have to arrange the flowers, but they offer exceptional quality and freshness at a bargain price.
For arranged flowers and local florist delivery, we recommend flowers delivery by 1-800-FLORALS, an award-winning family-owned florist service offering nationwide delivery, secure ordering, and satisfaction guaranteed since 1923. Ranked among the top 1% of North American florists, 1-800-FLORALS specializes in same-day and next-day delivery across the 50 U.S. states and Canada through a network of more than 20,000 professional local florists.